. Sam Wu is NOT afraid of anything. Well, maybe some things.

Like ghosts, sharks ... the dark's pretty worrying too. And not to mention SPIDERS! But Sam's not going to let anyone know.

And so when Tulip, the school tarantula, disappears from her cage, Sam decides it's up to him and his friends to save the school from the eight-legged escapee ... Common childhood fears are dealt with in a hilarious, sensitive and accessible way. 
Katie and Kevin Tsang met in 2008 while studying at the Chinese University of Hong Kong.

Since then they have lived on three different continents and travelled to over 40 countries together. They currently live in London. Kevin was born in Copenhagen and grew up in Atlanta, Georgia.

Some of Sam Wu's experiences are based on Kevin's childhood (he's feeling much more confident now)
Tagged ghosts , overcoming fears and reluctant to read
Sam Wu is NOT Afraid of Space!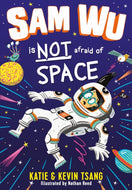 Sam Wu is NOT Afraid of Sharks!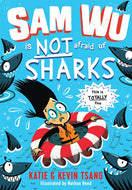 Sam Wu is Not Afraid of Zombies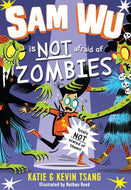 A collection of children's books written and illustrated by BAME authors.