Andy and Terry have added another thirteen levels of crazy fun to their every-growing treehouse (it used to be a 104-story treehouse, but it just keeps growing!)
They've got a tiny-horse level, a pyjama-party room and an Underpants Museum and Treehouse Information Centre! But Andy and Terry have found themselves running from the Story Police and the only way to escape, is through the terrifying Door of Doom!
For as long as Andy and Terry have been writing books together, Andy has always been the narrator and Terry has always been the illustrator. But when Terry tries to prove that he can narrate as well as draw, the story goes completely out of control and the Story Police arrive to arrest the whole treehouse team for crimes against storytelling!
Tagged reluctant to read
130 Storey Treehouse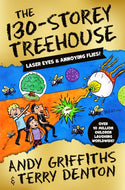 The 104-Storey Treehouse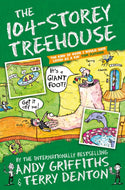 The 117-Storey Treehouse