1720. Blue Mountains, windward Jamaica. In the sweltering heat Captain Shettlewood leads a troop of British soldiers through the thick trees towards the river.
They are hunting slaves who have escaped from the brutal plantations. Their mission: to find them, and kill them. But up ahead, hidden among the rocks above the water, a group of men with cutlasses and muskets wait patiently for the instructions of their leader.
Queen Nanny is a 'wise woman' with a reputation for ancient obeah magic, and a guerilla fighter with a genius for organisation. So the battle for Jamaica begins, the First Maroon War, in which the maroons - escaped slaves - will make a final, do-or-die stand against the slavers and soldiers of Empire.
Tagged Black History , colonialism and Jamaica
Queen of Freedom Defending Jamaica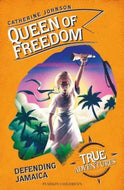 The Flag Never Touched The Ground America's Brave Black Regiment in Battle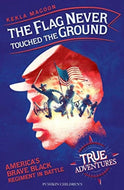 Swordswoman! The Queen of Jhansi in the Indian Uprising of 1857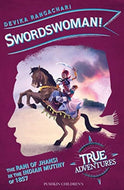 A collection of children's books written and illustrated by BAME authors.
A set of books celebrating Black British history.