The third hilarious book from the amazing brain of Omar!
When Omar and his friends come back after the school holidays, their lovely teacher seems to have been replaced by somebody much more grumpy.

Overhearing other teachers talking about her, Omar decides something terrible has happened. Could she possibly have been abducted by ... aliens?! Omar persuades his friends to mount a rescue mission but what they find is very surprising!
The combination of Zanib Mian's hilarious text and Nasaya Mafaridik's fantastic cartoon-style illustrations make the PLANET OMAR series absolutely perfect for fans of Tom Gates and Wimpy Kid.

Planet Omar: Accidental Trouble Magnet#1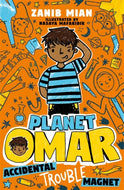 Planet Omar: Epic Hero Flop : Book 4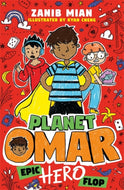 Planet Omar: Incredible Rescue Mission Book 3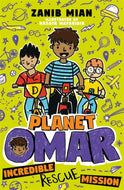 A collection of children's books written and illustrated by BAME authors.