A wickedly funny new series for ages six and up from the creator of Where Bear?, Pass It On and the Pom Pom series, with colour illustrations throughout. Jeanie's Grandma is BAD. Not bad like a vampire or a gangster or anything, more like .
. . up to no good.
Sometimes she can be a bit embarrassing but most of the time she's REALLY fun, especially when she gets Jeanie involved in her mischievous schemes. Everyone says she's old enough to know better . .
. but she doesn't seem to care one bit. In fact, Jeanie thinks she might quite like it! Bad Nana is a deliciously wicked new series for ages six and up, told through the eyes of 7 3/4-year-old Jeanie.
Gorgeously illustrated throughout with vibrantly coloured spreads, Bad Nana's naughty exploits will shock and appal - and make you snort with laughter!
Tagged grandparents and reluctant to read
That's Snow Business!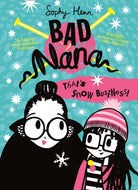 All the Fun of the Fair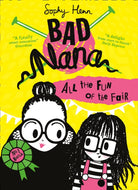 Older Not Wiser