"The Dragon Detective Agency. Dirk Dilly speaking."When a visitor turns up unannounced at Dirk's office with a new case for him and Holly to solve, all is not as it seems. A Sea Dragon has disappeared and the only clue left at the scene of the crime is the ashy outline of an elusive Sky Dragon.
As their investigations take them from a dodgy billionaire's HQ to the top of the city's tallest skyscraper, trouble is set to soar sky high for this dragon detective and his partner-in-solving-crime. Will they be able to hunt down the suspect and find the missing dragon before they both disappear into thin air?
Tagged detectives and spies and dragons
Dragon Detective: That's A Wrap!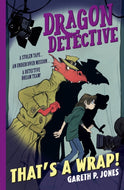 Dragon Detective: Sky High! : 3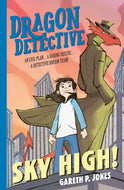 Dragon Detective: School's Out! : 2