Fantastically funny Wilf was shortlisted for the Laugh Out Loud Book Awards!
Meet Wilf. He worries about everything. He is a Mighty Worrier.

And now the most evil man in the world has decided he wants to become the most evil man in the whole UNIVERSE... Things Wilf was worried about before:1. Suits of armour.

2. Bald cats. 3.

Aliens laying eggs in him. Things Wilf is worried about now:4. The most evil man in the world.

5. Anyone called Alan. 6.

Alan becoming ruler of the UNIVERSE. Alan is Wilf's self-styled evil lunatic next-door-neighbour. He has a grumpy robot sidekick and a silent right-hand-dog, Kevin Phillips.

He is ridiculous. But when Alan decides to build a rocket and take over outer space, Wilf knows he will have to overcome his fears and anxieties to help the aliens fight back... Join Wilf for a fantastically funny adventure, illustrated throughout by Jamie Littler!
Tagged aliens and reluctant to read
Wilf the Mighty Worrier Rescues Dinosaurs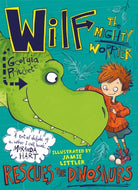 Wilf the Mighty Worrier and the Alien Invasion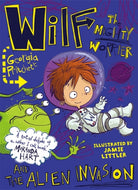 Wilf the Might Worrier Saves the World