Children's brains are powerful and flexible, but they need exercising and challenging to develop. In this book they will uncover the core skills that can make a good artist great, and be encouraged to have a go at some simple activities to help them to train their brain to become improve their artistic skills and thinking.
By uncovering the way that real artists look at the world and approach problems, they will be learning skills that will set them in good stead for life. Each topic is broken down into manageable chunks, so the reader can build up their skills and naturally develop their thinking. Each book contains biographies of four top artists, and the humorous illustrations throughout help the reader to understand some of the trickier concepts.
Tagged art and artists
Train Your Brain: Think Like an Artist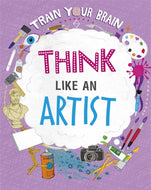 A collection of children's books about art and artists. Selected by our highly experienced and qualified team of teachers, librarians and education consultants.