Three charming stories about a young girl who lives in a flat in Lagos with her sister, Moji, who is very clever: her brother, Dapo, who is very fast: and Grandmummy, who is very bossy. Too Small Tola is just the right size to fit under the bed and rescue Grandmummy's most prized possession when it goes missing. Her abilities in maths prove to be very helpful when Grandmummy becomes ill.

In the title story, though Grandmummy can't afford to buy Tola new clothes, Tola turns out to be just as fine as the three fine girls she so greatly admires. A book full of heart and genre_fiction:humour by multi-award-winning author and storyteller Atinuke, with artwork by Onyinye Iwu, a fabulous new talent in children's illustration.

Tagged courage , families , female empowerment , inclusivity , Nigeria and resilience
Too Small Tola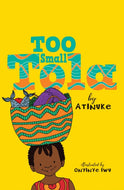 Too Small Tola and the Three Fine Girls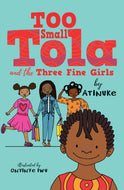 A collection of children's books written and illustrated by BAME authors.