The Olympic games are coming to the city.
They may be too young to compete, but their teacher suggests the school should have its own games. Of course, girls have no part at all in these festivities but Elena discovers her twin brother, Cypselis, has made a bet with Big Bacchiad (the school bully). If Cypselis wins he will get a new goat.
If he loses then Elena will become Bacchiad's slave. Elena's freedom is at stake - she needs all her cunning to make sure her brother wins. But will he? Terry Deary's Greek Tales explore the world of Ancient Greece through the eyes of children who could have lived at the time.
Tagged Book Band Lime
The Sea Monsters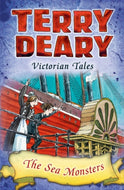 The Lion's Slave
The Tortoise and the Dare