Smart kitty. Mucky pup. Here comes trouble...
Jasper and Scruff's latest venture, Paws Diner, is a big success. Customers come from far and wide to sample their Salted Caramel Cake and the place is always packed. Until, that is, The Sophisticafe opens across the street.
Determined not to be outdone by their old enemies, The Sophisticats, Jasper sets to work on a fancy new menu. But while Jasper hopes to gain a coveted three paw rating from the great restaurant critic Gaspard le Skunk, Scruff worries that his friend is forgetting about their loyal regulars. Worse still, The Sophisticats have heard that Gaspard is paying the diner a visit and have cooked up a fiendish plan...
Tagged cats , dogs and reluctant to read
Jasper and Scruff: Take a Bow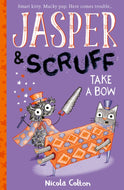 Jasper and Scruff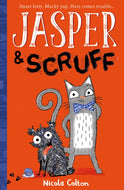 The Great Cat Cake-Off