This story isn't just about birds.

It's about secrets, the seaside, how seagulls can trick worms into thinking it's raining. It's about mucus, fudge and dogs needing a wide variety of sniffs. But if you want the simple version, it's about what happened here last summer.

How a girl called Ivy and a boy called Nathaniel solved a mystery and saved the world's animals: one at a time ... 
Tagged animals , environment and green issues
How to Save the World with a Chicken and an Egg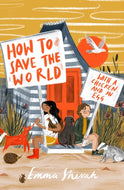 A set of books for primary schools on the theme Green Issues