Nelson wakes up on his birthday to discover that he has gained ninja powers overnight! This funny, heavily illustrated series from Anh Do is action-packed, with an appealingly grounded heart. 
Nelson's a nerd. Unfit, uncool . .  totally awkward! But when he wakes up on his tenth birthday, he discovers he's a NINJA! THE LAST NINJA ON EARTH! How's he going to SAVE THE WORLD when he can't even get his undies on the right way?
Tagged superheroes
From Nerd to Ninja!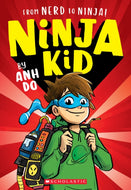 Ninja Kid 2: Flying Ninja!