2021 Read for Empathy collection -
Felix hides all of his sorrow inside a large black suitcase that he carries with him wherever he goes. One day, a small boy opens the suitcase whilst Felix is sleeping. Felix wakes and the tears that he had been carrying for so long suddenly pour from him.

Felix is uplifted, free and his heart is full of joy. Felix embraces the world, and the world embraces him. A beautiful book about feelings of sadness and the power of friendship from Slovenian picture book creator Dunja Jogan.
Tagged bereavement
Felix After the Rain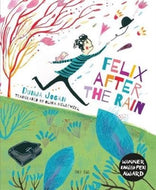 A collection of children's books written and illustrated by BAME authors.
A collection of children;s books that promote empathy.