Chitty Chitty Bang Bang and the Race Against Time is the second book in the delightful sequel series by Frank Cottrell Boyce, that began with Chitty Chitty Bang Bang Flies Again. Featuring black and white illustrations by Joe Berger, this magical story charts the adventures of the Tooting family and their very special car. Uh-oh! Chitty Chitty Bang Bang is stuck in reverse.
And Little Harry's pressed a button that means Chitty is reversing through time - with the Tootings aboard. When they finally come to a stop, it's at the feet of a very hungry-looking T-rex. How are the Tootings - and Chitty - going to get out of this one? More fun, fast, feel-good adventure with the world's greatest car.
. . driven by the world's most hapless family.
Tagged cars and journeys, travel and transport
Chitty Chitty Bang Bang Over the Moon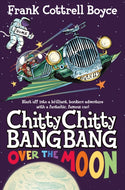 Chitty Chitty Bang Bang and the Race Against Time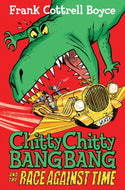 Chitty Chitty Bang Bang Flies Again