A celebration of the lives and achievements of inspirational black people through history who made a difference.
Sporting Heroes hails the huge contribution of black sportspeople and athletes to the world of sports. From Jesse Owens to Nicola Adams, they have sprinted, kicked, fought and shot their way to glory, breaking down barriers and defeating prejudices along the way with their sheer talent and resilience. Black Stories Matter is a powerful illustrated collection of stories of inspiring black personalities through history.

Perfect for readers aged 9 and above. Contents: Main biographiesNicola AdamsUsain BoltCathy FreemanPeleAde AdepitanSimone BilesJesse OwensSerena WilliamsMo FarahMuhammad AliMini biographiesAlia AtkinsonArthur AsheJackie Joyner KerseeMichael JordanCharlie SiffordBrian LaraIsabelle SambouSheryl Swoopes
Tagged sports
Black Stories Matter: Sporting Heroes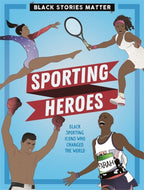 Black Stories Matter: Amazing Artists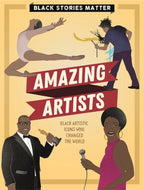 An inclusivity collection of children's books including pictureboks, fiction and nonfiction. Youmay also  e inteested i our easy purchase packs.