Breathtaking action adventure for 8 to 12-year-olds. Ash Mistry, reluctant hero, faces ancient demons... and comes into an astonishing, magical inheritance.
Varanasi: holy city of the Ganges. In this land of ancient temples, incense and snake charmers... Where the monsters and heroes of the past come to life...

Ash Mistry and the Savage Fortress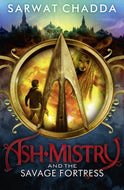 A collection of children's books written and illustrated by BAME authors.