Meet Agent Weasel: woodland super-spy. In his greatest challenge yet, Agent Weasel must confront the villainous Rook King. Perfect for reading alone or sharing together, for fans of The Bolds and Mr Gum.

Spring has sprung in the United Woodlands, and the animals of Woodland Intelligence (WI6) are celebrating with a barbecue. But when a mysterious attack from the skies bursts Beaver Dam wide open, the woodland is flooded! The head of WI6 suspects foul play. It's time to call Agent Weasel, woodland super-spy.

Can he manage a daring underwater rescue? Will he notice the clues leading high into the treetops? Will he ever get over the drowning of his precious biscuit collection? Find out in this wild and watery tale, with glorious illustrations throughout.
Tagged detectives and spies and reluctant to read
Agent Weasel and the Abominable Dr Snow : Book 2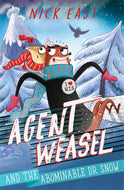 Agent Weasel and the Fiendish Fox Gang : Book 1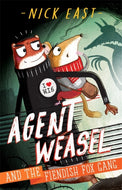 Agent Weasel and the Robber King Book 3