This newest addition to Prestel's acclaimed series, which introduces children to important works of art and architecture, takes young readers around the world to investigate how tall buildings are constructed and what makes them so appealing.
Tagged buildings and architecture and engineering
13 Skyscrapers Children Should Know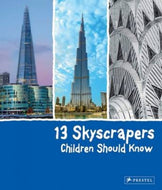 A collection of children's books on the topic Buildings and Architecture. An easy purchase pack is alo available.