This beautiful follow-up to The Story of Life brings to life the story of our universe for younger children. Using bitesize text and beautifully bright illustrations this is the perfect book for little ones everywhere who are keen to learn more about the mysterious, dark and sparkling space. Spacesuits at the ready? Then let's jet set off an incredible journey as we whiz past planets near and far and learn all we can about the story of space.
Overflowing with a kaleidoscope of fascinating facts and intergalactic illustrations, this is the perfect introduction to space for the youngest of readers. Before the Big Bang, there was NOTHING AT ALL. No galaxies, no space, no light and no sound.
Then suddenly, 13.8 billion years ago, IT ALL BEGAN... Travel back in time to the Big Bang, see galaxies and stars form, watch the birth of our planet and how life begins, join the first man on the moon, and wonder what mysteries are still waiting to be discovered. Children will love this brilliant first book about space, sure to provide entertainment for the whole family.
Tagged space, planets and stars
The Story of Inventions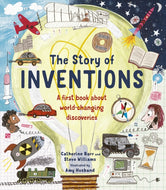 The Story of Climate Change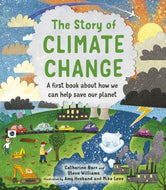 The Story of Life