When Dinah is fostered by the Hunters she thinks her biggest problem will be fitting in with her foster-brothers, Lloyd and Harvey. However, once she starts at her new school it's clear that there's more to worry about. All the children, apart from a handful including Lloyd and Harvey, are too well-behaved - robotic almost - and oddly keen to please the creepy headmaster.
The three children set out to discover the nature of his influence over everyone
but then Dinah finds herself saying and doing things she has no power over. Soon they uncover the headmaster's wicked plan. Controlling the school is just a practice run.
He has set his sights on dominating the entire nation! The children must foil him before he succeeds
but with Dinah under his spell they've got a challenge on their hands. Great fun and just a little bit frightening, Gillian Cross's beloved classic still holds readers under its hypnotic spell, even after thirty years of being in print. 
The Demon Headmaster and the Prime Minister's Brain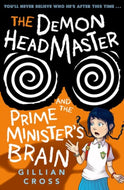 Facing the Demon Headmaster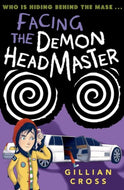 The Demon Headmaster Takes Over