It's pretty nippy in Edwinland and Nurbisonia.
In fact, it's the coldest winter in a hundred years! After evil Emperor Nurbison steals all his peasants' firewood and woolly hats just because he can, they go to live with nine-year-old King Edwin in Edwinland instead. The furious emperor talks the scary Ice Folk to join him in his latest dastardly plan to make life difficult for Edwin and his new peasants, but Edwin is determined not to let Nurbison get away with it. He is a noble king, after all!But Edwin has an extra problem to deal with - a voice of doubt in his head called Wendy Worry, who keeps telling him he's not up to the job of being king.
How can he beat Emperor Nurbison AND Wendy Worry at the same time?
Tagged Book Band Brown
King Flashypants and the Boo-Hoo Witches : Book 4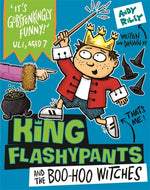 King Flashypants and the Creature From Crong : Book 2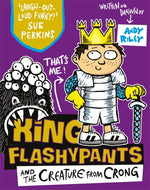 King Flashypants and the Evil Emperor : Book 1