Once, and once only, there was a boy whose name was Fizzlebert.' Fizzlebert Stump lives in a circus where the bearded Barboozul family are the new stars. Their act is full of magic, mystery, fear and fun.
And it's nice to have another boy around, even if he is a bit ... hairy round the chin. But then things start going wrong.
The lion loses his dentures. The clowns lose their noses. The Ringmaster loses his temper.
And the circus is about to lose its licence. Is the bearded boy to blame? Can Fizz save the day?The story of a boy, some beards, a sinister plot, clowns in crisis, and a very poorly rabbit.
Fizzlebert Stump The Boy Who Ran Away From the Circus (and joined the library)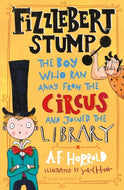 Fizzlebert Stump and the Great Supermarket Showdown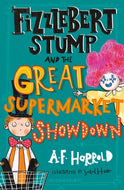 Fizzlebert Stump: The Boy Who Did P.E. in his Pants