Timmy Twinkle is chubby. That means he gets bullied at school and hasn't any friends.

He longs to play football, but he's hopeless at games. He's miserable. And it doesn't help when Gramps tells him about Great-Uncle Vernon, a chubby boy who grew up to be a famous footballer.

Then his gran's friend May comes to stay. May is a fitness fanatic who knocks Timmy and Gramps into shape in no time, and Timmy discovers there's magic in his toes - he can kick a ball just like Great-Uncle Vernon. And when Timmy performs on the football field, everyone wants to be friends with him.

A lovely story of a child whose unhappiness is dispelled by the discovery of a magical gift.
Tagged anxieties and worries , football and sports
The Smallest Girl Ever
The Boy Who Could Fly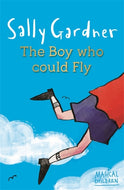 Magical Children: The Boy with the Lightning Feet