A guide to landmark achievements in engineering.
Follow the development of skyscrapers, as they have grown taller and taller, and more fantastical through engineering skill, design and ambition. Get to grips with the mind-boggling advances that have been made in engineering. Find out about awe-inspiring buildings and technology. 
Tagged buildings and architecture , engineering and towns and cities
Awesome Engineering: Bridges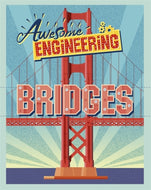 Awesome Engineering: Skyscrapers
A collection of children's books on the topic Buildings and Architecture. An easy purchase pack is alo available.